Leawood Lifestyle Magazine
2/20/2012
Leawood Lifestyle Magazine
From Coast to Coast—and Beyond: Brookside Gallery Owner and Consultant Promotes Kansas and Missouri Artists
Napa Valley's Domaine Chandon vineyard, known for its legendary sparkling wines, and Los Angeles' Warner Brothers Studio, known for its legendary movie-making, have something in common with both Kansas City's Kauffman Stadium and Overland Park's Convention Center.
All four are among the many major organizations showcasing distinctive art projects promoted and installed by Brookside gallery owner and art consultant Paul Dorrell.
"It seems to always surprise people that we have major clients not only in this area but also around the country and in Australia, Japan, and all over Europe," says Dorrell from the busy floor of the Leopold Gallery, which celebrated its 20th anniversary in October.
A Kansas native and proud of it, Dorrell grew up in Old Leawood and fondly remembers riding horses at the old Saddle and Sirloin Club and racing motocross bikes on the dirt road that is now College Blvd. Later, at the University of Kansas, Dorrell earned degrees in English literature and art history, but unlike most of his peers, did not seek traditional employment after graduation.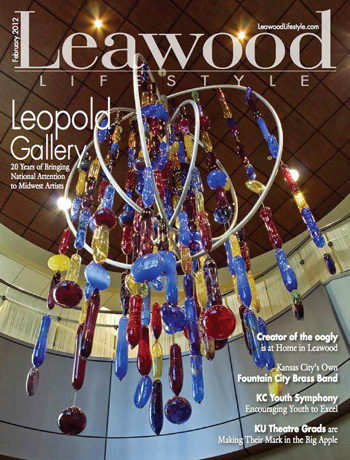 Instead, he took off on his motorcycle, accompanied only by a backpack, and visited all 48 contiguous states. He worked his way through the two-year adventure at various jobs along the way, including stints on a horse ranch in Santa Barbara, a fishing boat in the Florida Keys, and on Katherine Hepburn's estate in Connecticut.
"My mom was pretty cool with the whole thing but my dad was worried," says Dorrell. "He relaxed though, after the first few months when he could see I was really serious about seeing this country."

Eventually, Dorrell landed his first real job as the assistant director of the Hill-Stead Museum in Farmington, Conn., and discovered his true calling— involvement with art. After helping the museum expand its membership and restore its grounds, Dorrell came back to Lawrence and opened the Leopold Gallery in 1991.
"My first goal?" laughs Dorrell, "not to go bankrupt." From the beginning, Dorrell was passionate about discovering and promoting regional art from Kansas and Missouri.
"If there was any way to get an area artist's work in front of a client, we did it," says Dorrell. "There is such a wealth of great work here and sometimes this part of the country can get overlooked."
He installed his first major job in downtown Hartford, Conn., a statue of Mark Twain created by Lawrence sculptor Jim Brothers. The gallery moved to downtown Kansas City in 1994 and Dorrell continued to work with area artists, including Brothers who also sculpted a memorial statue of U.S. General Omar Bradley, now installed in Moberly, Mo.
After a fire seriously damaged the business, Dorrell moved to the Crestwood area in 1997. During that time, he became the art consultant for the National D-Day Museum in Bedford, Va. where today, Brothers' six monumental bronzes and six portrait busts are on display. Legendary filmmaker Steven Spielberg, a benefactor of the museum, was so taken with Brothers' work that he also owns one of the artist's pieces.
Today, the Leopold Gallery is located on Brookside's bustling 63rd Street. Dorrell and wife Ann live in Prairie Village and the couple's two sons, Denny and Josh, both attend KU and assist with the gallery's projects.
In addition to the Kauffman Stadium and Overland Park Convention Center, Dorrell's area projects include major art installations at H & R Block Headquarters, University of Kansas Hospital, Kansas State University, Kansas City Zoo, Sprint Center, Citizens Bank, and St. Luke's Hospital.
"All involve scores of regional artists," says Dorrell, whose client list includes his first employer, the Hill-Stead Museum. "We've helped some become the successful artists they are today, with encouragement and support. At the end of the day, that's what it's all about-along with developing regional culture. I'm quite proud of both accomplishments."
Somehow, Dorrell also found time to write an acclaimed guidebook for artists, Living the Artist's Life. Published in 2005, Dorrell found himself on a 60-city book tour over an 18-month period, promoting the book at retailers and conducting lectures at various artistic forums. The updated version of the book will be published in April. In addition to hitting the road again to promote the book's second edition, Dorrell has been invited to interview as an art consultant for the San Francisco 49ers new stadium.
Dorrell's other creative passion, which many of his clients share, is underwriting the art programs in inner-city schools such as Sumner Academy and the Paseo Academy. The Leopold Gallery Charitable Foundation, created in 2010, does just that.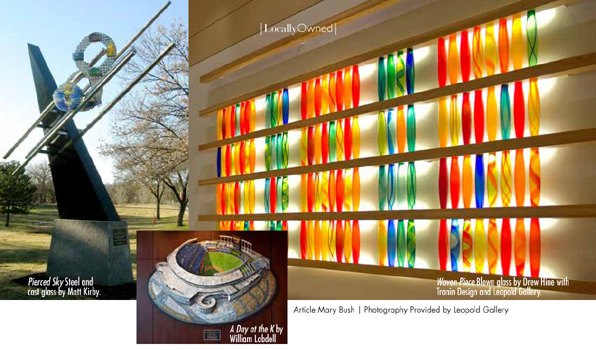 "So many of our clients donate generously to this project," says Dorrell. "The foundation provides first-rate instruction, field trips, and art supplies for these kids–the same things their counterparts in Blue Valley and Shawnee Mission receive. We reach out to kids who feel in their bones they want to work with art but may be hampered by their circumstances."
So what inspires someone like Dorrell who is responsible for the advancement of so many others' inspirations? "Of course, my family and then also travel, whether it's here or abroad," says Dorrell. "I'm also fortunate to be around such visionary artists and clients, doing something I love."
But inspiration also comes when Dorrell hits the road on the well-tuned street bike he owns. "There's nothing like taking it up to 130 miles an hour when I'm all alone on some deserted highway," laughs Dorrell. "I'm just always careful when I do it.